If we are right in our assumption that there is a Splinter Civilization – an elite offshoot of humanity that has kept incredible secrets and hoarded advanced technologies – then Area 51 is one of the red flags signaling its existence.
Bird's eye view of (the once officially non-existent) Area 51, in Nevada.
After decades of denials and calling all conspiracy theorists deluded, the US Government has finally admitted the famed Area 51, in the Nevada desert, does exist.
The top secret Cold War test site adjoining Nellis Air Force Base, northwest of Las Vegas, has long been fodder for speculation the authorities have covered up reported sightings of UFO's and aliens. Until recently the government has denied its existence.
Now a newly declassified CIA document confirms the existence of Area 51. The document states the contentious zone was used as a testing range for the government's U-2 spy plane during the Cold War.
However, there's no mention of the controversial Roswell incident, which UFO believers claim was an alien space ship that crashed in New Mexico in 1947 and not a weather balloon as the authorities insisted. Supporters of the theory allege that Area 51's hangars were used to hide evidence of alien bodies recovered from the spaceship.
The CIA asserts government secrecy surrounding Area 51 was simply about ensuring a new spy plane – the U-2 reconnaissance aircraft – remained hidden from prying Soviet eyes. Plausible considering the aircraft was designed specifically for high altitude snooping on the Soviets.
CIA declassified map showing Area 51.
The agency's report explains the "tremendous increase in reports of unidentified flying objects" as an "unexpected side effect" of high altitude testing of the U-2. This increase was due to the aircraft's silver wings reflecting the rays of the sun, according to the official explanation.
An early U-2 spy plane in flight. 
However, this doesn't explain the Roswell incident or the many other reported UFO, and indeed alien, sightings in and around Area 51 over the years.
It's easy to dismiss such sightings as the ramblings of zealous conspiracy theorists. However, in the wake of the US Government's belated and official admission that Area 51 does exist, maybe those reports shouldn't be dismissed quite so readily.
"You know, there aren't six people in this room who know how true this really is." –President Ronald Reagan. Conversation with Steven Spielberg at the White House on June 27, 1982 during a Presidential screening of E.T. the Extra-Terrestrial.
We visit Area 51 and Nellis Air Force Base in The Orphan Uprising, book three in our international thriller series. Our research for that novel raised more questions than answers – questions we'll probably never know the answers to.
Nine was aware the base was supposedly connected to, or even part of, the fabled Area 51. Like most other Americans, he'd heard the rumors surrounding Area 51 – such as its anti-gravity machines and other suppressed technologies and inventions. He had no idea whether there was any truth in the rumors. Whether the US Government secretly worked in collaboration with extraterrestrial civilizations was of no concern to him anyway. All he cared about was finding his son. –The Orphan Uprising
Of all the explanations those in the conspiracy community want regarding Area 51, probably the most pressing is whether the global elite are housing human or alien technologies there.
If either was admitted to, that would be equally extraordinary.
Say what? Well, if the anti-gravity flying machines witnessed by so many in and around Area 51's airspace are manmade then that confirms the Splinter Civilization are almost light years ahead of known science – and they have technologies the common man could scarcely comprehend.
If on the other hand UFO's are of alien origin, that implies the global elite are collaborating with an ET civilization – and this may explain why classified technology has progressed at such a rapid rate since around the time of Roswell.
The CIA finally comes clean
As mentioned, for decades Area 51 was said to exist only in the furtive and skeptical minds of conspiracy theorists. Then Russian satellite photos of the facility were leaked and shared far and wide online. But still the US Government continued to maintain there was no such place as Area 51 and blamed conspiracy theorists as being responsible for spreading lies.
Each and every US administration maintained this position until August 16, 2013…
That was a day the Tinfoil Hat Network had something to celebrate, for on that date the you-know-what hit the fan when the world's media reported that the CIA had officially announced the existence of Area 51.
This significant acknowledgement came by way of declassified documents procured via a public records request lodged by George Washington University's National Security Archive. The documentation included a CIA history of Area 51's top secret U-2 spy plane program. Where references to Area 51 had been redacted in earlier documentation released by the CIA, it was named for all to see in the latest documents.
A declassified CIA document acknowledging Area 51.
In the outpouring of media commentary that followed, a ForeignPolicy.com editorial piece sums up the revelations better than most – to our eyes at least – describing Area 51 as "a touchstone of America's cultural mythology."
The editorial continues:
"It (Area 51) rose to notoriety in 1989, when a Las Vegas man claimed he had worked at the secret facility to discover the secrets of crashed alien hardware, spawning two decades of conspiracy theories and speculation about little green men. But the facility's history — and the history of the strange, secret aircraft that were developed there — extends back to 1955. Since its inception, the government has obliquely acknowledged its existence only a handful of times, and even the CIA's 1996 declassified history of the OXCART program — the development of the SR-71 Blackbird at the secret site — refers only to tests conducted in "the Nevada desert." The government has never publicly discussed the specific facility … until now."
While the declassified documents acknowledge the Nevada site was a testing ground for surveillance during the Cold War, conspiracy theorists will be disappointed there's no mention of UFO's or aliens.
UFO sightings and conspiracy theories have dogged Area 51 since its inception. Time travel, advanced weapons programs and enormous underground bases, as well as the recovery of downed alien spacecraft and interaction with the occupants of those craft are just some of claims made by conspiracy theorists.
Of all the conspiracy claims surrounding Area 51, one stands out above all others: Roswell.
Roswell
The Roswell event occurred near Roswell, New Mexico, in 1947 when a mystery craft crashed on a ranch and debris was recovered. That much at least is true. The official explanation – courtesy of the United States Armed Forces – is the debris was the result of a secret US military Air Force surveillance balloon crashing.
Interestingly, the very first official explanation – issued by an Army spokesman – was that the mystery craft was "a flying disc." That was quickly corrected in an Air Force statement advising that Roswell Army Air Field personnel had recovered a downed weather balloon at the crash site.
Major Jesse Marcel displays remains of the so-called weather balloon after the Roswell crash.
However, it's the unofficial explanations that most interest us. They obviously interest a lot of others, too: the public at large have been intrigued by the enduring theories the incident spawned – the most prominent being that the mystery craft was in fact a spaceship and that it contained extraterrestrial life.
A 1995 feature-length doco titled The Roswell Incident provides a compelling overview of the incident, inclusive of very persuasive eye-witness accounts. It's accessible via Top Documentary Films' website.
Top Documentary Films' splurge for the doco begins:
"In the summer of 1947, there were a number of UFO sightings in the United States. Sometime during the first week of July 1947, something crashed near Roswell.
"W.W. (Mack) Brazel, a New Mexico rancher, saddled up his horse and rode out with the son of neighbors Floyd and Loretta Proctor, to check on the sheep after a fierce thunderstorm the night before. As they rode along, Brazel began to notice unusual pieces of what seemed to be metal debris, scattered over a large area. Upon further inspection, Brazel saw that a shallow trench, several hundred feet long, had been gouged into the land."
Mack Brazel (48) pictured in 1947…after something crashed near Roswell.
The doco reports the crash site was quickly sealed off by the military, but not before the discovery of four alien bodies outside a damaged spacecraft – at a second crash site – that was largely intact.
Sounds far-fetched? Many think so. Even a few high profile UFO commentators dismiss the Roswell-related alien body claims as implausible.
Then again, it's one of the oldest conspiracy theories around and it shows no sign of going away any time soon. One reason for this could be the eyewitnesses who claim, or claimed, to have observed the aftermath of the crash are in the main very credible and convincing.
Roswell crash site model exhibit supposedly based on the actual recovered spacecraft.
"For some years I have had good reason to believe that world governments, headed by the Americans, not only have contact with alien races, but have reciprocal agreements with them, allowing certain species to come and go around our planet without hindrance." –Tony Dodd. Former British police officer.
Area 51 accounts from US Government employees
Numerous insiders from the US military and intelligence communities have stated that the technologies at Area 51 are of extraterrestrial origins. These individuals are, or were, for the most part former military employees, and in many cases they died after giving testimony!
Coincidences perhaps?
Probably the best known of these insiders is one Bob Lazar who claims he was employed as a scientist in the late 1980's to study recovered ET technologies housed at a top-secret facility known as S4, which is said to be in, or bordering, Area 51.
Area 51 whistleblower Bob Lazar and his ID pass for accessing S4.
Lazar, who is an electronics expert and a former document photo processor, says he had to pass strict military tests before being permitted to study the recovered ET craft. His assignment was to determine how humans could fly the craft and how more such craft could be constructed.
The scientist claims the craft he studied had extraordinary super physics abilities. It could bend the fabric of space and time, thereby making it capable of defying Einstein's Theory of Relativity by teleporting and time traveling.
After studying the first craft, Lazar says he was put to work on other spacecraft. Yes you read that right: other spacecraft.
One of the spacecraft Lazar supposedly worked on at Area 51.
In total, over the 12 months Lazar worked at Area 51, he claims he experimented with nine different extraterrestrial vehicles. Apparently these craft used a unique fuel – one that Lazar called Element 115 – that allowed the Beings who created them to travel across the universe at or somewhere near the speed of light.
Potentially supporting Lazar's testimonial, Element 115 was discovered on August 28, 2013, prompting various news outlets and scientific journals to run stories on the discovery that same day. These included an article by National Geographic headed Meet 115, the Newest Element on the Periodic Table.It mentions how the "extremely heavy element was just confirmed by scientists in Sweden".
UFO website openminds.tv also posted an article the same day, mentioning Lazar's claim of 23 years earlier. "Element 115 received attention in 1989 when Area 51 whistleblower Bob Lazar asserted that extraterrestrial spacecraft at Area 51′s S4 facility were powered by the element."
Another intriguing case is the deathbed testimonial ofan ex-CIA employee who convincingly reveals what he insists is the truth regarding extraterrestrials' involvement with humanity. The recorded interview was conducted by American television host and UFO author Richard Dolan, and filmed on March 5, 2013 at an undisclosed location somewhere in mainland America.
The dying man, who remained unnamed presumably to protect his family, claims to have been hired by the CIA when he was a young man in the 1950's. He says he was first employed to investigate UFO's in the top-secret Project Blue Book, another former conspiracy theory which has since been proven to be legitimate in the light of declassified CIA documents.
The elderly gentleman, who – unless he's the world's greatest actor – was clearly on his deathbed, also speaks of being sent to Area 51 on behalf of President Eisenhower where he not only witnessed ET anti-gravity technologies, but also says he met a real, live Grey Alien.
One of the aliens supposedly recovered, alive, after the Roswell crash (above). A close-up (below).
A May 3, 2013 article, again on the Open Minds UFO investigation website, accurately summarizes the aforementioned interview – referring to the unnamed interview subject as 'Anonymous' – (abridged) as follows: "Facing impending kidney failure, this individual felt compelled to disclose secret information he feels is too important to keep secret … 'Anonymous' alleges that, after an invasion threat … President Dwight Eisenhower, he and his superior at the CIA were allowed inside the secretive Area 51 in Nevada to gather intel and report back to the president. There, 'Anonymous' describes seeing several alien spacecraft, including the craft that crashed in Roswell, New Mexico. Then, he and his superior were taken to the S-4 facility southwest of Area 51 where they observed live extraterrestrials."
Footage of the testimonial was first shown to the public on May 3, 2013 at the Citizen Hearing on Disclosure, at the National Press Club, in Washington, DC.
UFO researcher and bestselling author Peter Robbins (at left), who attended the Citizen Hearing, watched the recorded testimony at that event. Robbins wrote the following on his Facebook account after the screening: "In my opinion, if it can be confirmed by any relevant supporting documentation, this moving and fascinating account does qualify as an authentic 'death bed' testimony from an individual who convincingly claims to have been a CIA officer deeply involved in the matter of crashed and/or recovered craft, and at one time a liaison between the Agency and the President."
The filmed testimonial has since been uploaded by various YouTube users and has been watched by millions of people, prompting many to comment that their "gut feelings" tell them the elderly gent is telling the truth, and also that it would be very hard to fake being that sick. Although some think it's a fabrication, the consensus – judging by comments left below the uploaded versions of the testimonial – supports the unnamed man's testimonial.
Finally, it should be noted that the man's testimonial, which has not yet been verified as either true or false, dovetails with a long-held popular theory which suggests the US Government entered into an agreement with an ET civilization. According to this theory, a deal was struck up with President Eisenhower and these other Beings whereby the US would be the beneficiaries of their advanced technologies provided the ET's could visit the US and elsewhere on Planet Earth at will to carry out whatever their agenda may be.
Some conspiracy theorists say that alien agenda includes abducting humans. Interestingly, the self-proclaimed former CIA agent who gave the deathbed testimonial also mentions that Eisenhower agreed to allow the aliens to abduct humans, including US citizens, as part of the agreement he signed with them.
"In our obsession with antagonisms of the moment, we often forget how much unites all the members of humanity. Perhaps we need some outside, universal threat to make us recognize this common bond. I occasionally think how quickly our differences worldwide would vanish if we were facing an alien threat from outside of this world. And yet I ask – is not an alien force already among us?" –President Ronald Reagan at the UN General Assembly. September 21, 1987, Geneva, Switzerland.
Close encounters of the fourth kind
Even though the subject does not directly relate to Area 51, we would be remiss not to discuss alien abductees – those who have been abducted by aliens or those who imagine they have, depending on your take – in this chapter. After all, Area 51 is only part of the bigger question we are exploring here: that is, are all the accounts of anti-gravity flying saucers the result of alien or human technology?
An anti-gravity flying disk similar to the 'Sport Model' described by Bob Lazar.
Although we haven't personally devoted much time to researching abductees' claims, we have by chance been personally involved with one of the most incredible, and supposedly true, stories of alien abduction ever told.
Around 2005-2006, we took out an option to the film rights of the 1998 book Coevolution: The True Story of a Man Taken for Ten Days to an Extraterrestrial Civilization, by fellow New Zealander Alec Newald whom we interviewed at length and subsequently wrote a treatment for a feature film screenplay adaptation of his book.
We believed the planned film would take the alien and space genres to a whole new level. Unfortunately, scheduling conflicts with our filmmaking slates prevented us from devoting the time required to produce the movie.
As the book's full title suggests, Coevolution is about The True Story of a Man Taken for Ten Days to an Extraterrestrial Civilization. Here's the book's blurb sourced from the popular reading social network Goodreads.com:
"One Monday in mid-February 1989, Alec Newald set off on what should have been a three-hour drive from Rotorua to Auckland, New Zealand. Instead he became a missing person for ten days. Newald claims that during those ten days he was taken by friendly aliens to their home planet, which he describes in full and awesome detail (for) part of this book — an amazing first-person account of a growing but still unexplained phenomenon."
Alec writes at length in the book how after being returned to Earth he was mysteriously contacted by agents of unnamed international intelligence agencies, even though he'd told nobody about his alien abduction. These agents harassed, threatened and tortured Alec in their belief he wasn't divulging all the information he had about this ET civilization. They also advised him he would, in the interests of self-preservation, be best to never publicly divulge what he experienced.
But that didn't deter Alec, who describes himself as a stubborn individual – and he wrote the book about his other worldly experience.
Coevolution contains detailed drawings of the friendly ET's he claims he met, as well as sketches of their spacecraft, their advanced technologies and the planet they took him to. He also has in his possession crystals and other rock formations he says he brought back from the planet.
We had no way of verifying this, but the rocks were strange and like none other we'd seen. Of course, we were essentially approaching the planned film adaptation from a storytellers' perspective – meaning we believed it would make a very entertaining movie and didn't give a lot of thought as to how likely it was true.
What we can say is Alec, who is a professional sailmaker by trade, believes 100% this happened to him. As an apparently sane and balanced individual, he presents a very convincing case. However, in considering such extraordinary claims, we must remember the mind is a very complex thing; its workings can deceive even the most stable individual, especially in times of stress or other outward influences.
Worth noting, especially for sci-fi fans, is Alec's claim that we humans are the ancestors of aliens and they, in turn, are our descendants from the future who have mastered time travel. Apparently, the ET's Alec befriended are close to extinction as a result of decisions their ancestors (we Earthlings!) made. They therefore regularly time travel back into their past to positively influence present-day humanity so they can improve their own reality.
And on top of all those complex themes, Alec also recounts in his book a love affair with one of the female aliens who he describes as having out-of-this-world beauty – figuratively and literally!
As filmmakers, we felt Coevolution would make an explosive and contentious sci-fi movie worthy of a Steven Spielberg blockbuster. We still feel that way. It's our hope that either a feature film or at the very least a feature-length documentary on it is eventually produced, exploring the mystery of Alec Newald's missing 10 days in the year 1989.
"I heard you had reports this morning of an unidentified aircraft. Don't worry it was just me."–George W. Bush speaking to the Military Academy in Roswell, New Mexico, January 22, 2004
The argument for manmade technologies
There's no denying the Roswell event unearthed some convincing evidence and very credible eye witnesses, and there have been innumerable reported UFO sightings from around the world since that incident.
A likely explanation for those sightings in and around Area 51 air space in particular is that they are in fact man-made machines – such as the once-secret U-2 spy plane – primarily originating in the Cold War in which America was a willing participant.
Since the U-2's development and subsequent unveiling, the public have become familiar with other cutting-edge aviation developments – such as the Stealth Bomber.
But what else out there is manmade?
The Stealth Bomber and other craft like it easily confused with alien craft.
Rumors of government-sponsored craft capable of traveling at unearthly speeds and resembling flying saucers have been around since World War Two. That includes the legendary Nazi foo fighter flying saucers, which scores of Allied pilots reported witnessing in-flight.
The lights are allegedly Foofighters in flight.
Given the many thousands of UFO reports logged around the world every year, such rumors shouldn't be dismissed too lightly. Certainly, manmade craft would be a more logical explanation for UFO sightings than alien craft. Not because it's unlikely there's life beyond our planet. Rather, because it could be argued it's unlikely other beings have discovered our little corner of the universe just yet.
This thinking suggests the odds of the Earth being discovered are astronomical given the size of our universe. It's a rather large 28 billion light-years in diameter, according to scientists, although that doesn't take into account the universe's expansion since this book underwent its final proofing.
Planet Earth…still waiting to be discovered?
Furthermore, if there's one thing our research has taught us, it is that it's naïve to believe the latest technology in the public domain is truly the latest. There are numerous examples of products or technology being introduced as new, or cutting-edge, whereas they had already been secretly used – for years in many cases – by the military or by certain government agencies, or both. The Internet was one such case, first being used for a number of years by the military before eventually being released to the public.
If we can accept that, we should be able to accept that there are new technologies, both in development and in existence right now, the average person couldn't even begin to imagine.
Disinforming the public
Perhaps the ET and UFO movements are simply disinformation – i.e. deception, propaganda or half-truths.
Persuading everyone to believe in aliens compels us to look up to the skies. And while we are all waiting for Little Green Men to arrive, the shadowy people in the Splinter Civilization effortlessly go about their secret work by advancing their suppressed inventions at a rate of knots.
This disinformation counter-conspiracy theory suggests that, collectively, accounts of ET's coming or crashing or even living amongst us conveniently form the perfect cover story. It's a story that is spread by intelligence agencies which encourage, and even surreptitiously finance, Hollywood film studios to make mega-budget movies about aliens and alien invasions.
Maybe the widespread acceptance by many that aliens have arrived on earth at some point – or at least a willingness to consider such a thing is possible – can be blamed on Hollywood. More likely, it can be attributed to the fact that we have been given so little of the big picture. (No pun intended).
If the Splinter Civilization's suppressed technologies were revealed in their entirety to the public at large, would everyone still believe UFO's must be of extraterrestrial origin?
Take Nikola Tesla's technologies alone. If these were suddenly declassified and opened up to public scrutiny, would we still be so quick to automatically assume that any alien civilization is superior, scientifically or otherwise, to our own? For all anyone knows, humanity may be the most scientifically advanced civilization in the entire universe.
"The phenomenon of UFOs does exist, and it must be treated seriously." –Mikhail Gorbachev, 'Soviet Youth' speech, May 4, 1990.
Einstein's Unified Field Theory
Strengthening the case for UFO's being manmade and of earthly origins, is the history of electrogravitic propulsion. It's a history that's either known, little known, rumored or usually unknown – depending on who you talk to.
According to American linguist and bestselling author Charles Berlitz, there was a rumor at Princeton's Institute for Advanced Study that Albert Einstein did indeed complete a version of his Unified Field Theory for Gravitation and Electricity – even though officially it remains a never-completed theory.
At first, this theory was published in German and appeared in a few scientific journals. In his papers, Einstein called his purported mathematical proof of the connection between the forces of electromagnetism and gravity as being "highly convincing".
However, this work was withdrawn as incomplete, although no published reason is given save that Einstein suddenly grew dissatisfied with it.
British mathematician Lord Bertrand Russell considered Einstein's Unified Field Theory complete, but felt that "Man is not ready for it and shan't be until after World War III."
Thus the Unified Field Theory on the connection between gravity and the electromagnetic field has remained unproven until the present time.
Leading Japanese scientist and former high-ranking employee of Japan's Ministry of Defense, Dr. Takaaki Musha, published an article in the 2004, Issue 53 edition of the Infinite Energy Magazine relating to this very question. The article, which covers a unique formula Musha developed for the link between electromagnetism and gravitation, was titled The possibility of strong coupling between electricity and gravitation.
Dr. Takaaki Musha…examines the link between electromagnetism and gravitation.
After publication of the article, Dr. Musha claims he was contacted by Doctor (name redacted) from the Institute for Nuclear Research and Nuclear Energy, in Bulgaria. The Bulgarian scientist, whose name we have withheld due to our inability to reach him for comment before this book's publication, was already working on a similar formula to Dr. Musha's.
According to Dr. Musha, the Bulgarian's "formulation proves it is possible to create an unbalanced acceleration by creating intense electric and magnetic fields in a dielectric or ferromagnetic medium. These predicted coupling effects for electromagnetic and gravitational fields would be static and thus they should be able to produce a net force to propel a spaceship."
The Bulgarian scientist wrote two papers on his formula in 1994.
"However," Dr. Musha claims, these "papers were rejected by two well-known science journals."
The strong implication is that there was a cover-up or else mainstream science was just not prepared to consider such theories on anti-gravity.
T. T. Brown, who discovered this electrogravitic effect first, conducted several experiments during the 1950's and succeeded to generate thrust without the reliance on a surrounding medium, such as air, by applying high voltages to materials with high dielectric constants. Around this time, US aerospace companies also become involved in such research, but their results are mostly classified.
In the late 1980's and early 1990's, a rash of observer sightings of unidentified, high-speed, high-flying air vehicles continued, but the US Government repeatedly denied it had developed an aircraft to replace the Mach 3-plus Lockheed SR-71 strategic reconnaissance platform – indicating it (the government) was content to let the public assume the sightings were of the SR-71.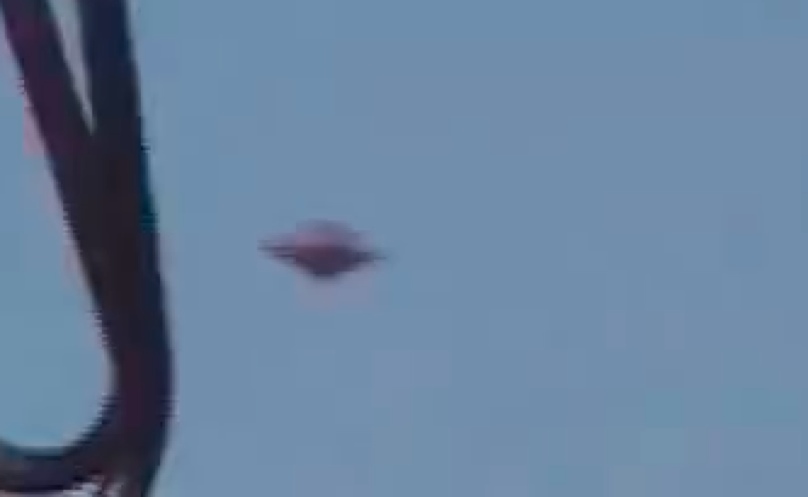 One of a rash of UFO sightings in 2014…this one over Mexico.
In the 1990's, a quest for an antigravity propulsion system was conducted by the USAF Science Applications International Corp. on behalf of USAF's then Astronautics Laboratory at Edwards AFB. (Area 51 is a detachment of Edwards ABF, which is responsible for testing of advanced flying vehicles). British multinational defence and aerospace company BAE Systems also provided internal resources for its own anti-gravity studies.
However, there was no significant progress in this area. At least not officially.
In the late 1990's, Dr. Musha says he worked with the Honda Corporation Research Institute in Japan and conducted an experiment to confirm the electrogravitic effect. Astonishingly, Dr. Musha claims he and the Honda Corporation obtained a positive result.
Dr. Musha also says, "In Dr. Thomas Valone's 1993 book Electrogravitics Systems: Reports on a New Propulsion Methodology, Dr. Paul LaViolette claimed that electrogravitic technology was developed under US Air Force black projects since late 1954, and it may now have been put to practical use in the B-2 Advanced Technology Bomber to provide an exotic auxiliary mode of propulsion."
Dr. Musha continues, "An electrogravitic drive of B-2 could allow it to fly at a sufficiently high speed at high altitude, or even space, and it could fly around the world without refueling in an antigravity mode."
What all this means is that science, and especially suppressed or classified science, may have long-ago evolved to the point where building anti-gravity spacecraft has been entirely possible.
Possible, that is, without any assistance from ET civilizations.
"I've been working with Paul Hellyer. He's the minister, the ex-minister of defense, Canada, under Trudeau. He is upset because the Americans are planning the weaponization of space, as though they (ET's) are enemies … It came out of a project called Project Paperclip, in which – and this is what Eisenhower warned us against – the sustention of the Military Industrial Complex. In order to extend the power and the funding of the Military Industrial Complex, you have to be afraid of things. Number one was communism. If that petered out, number two is terrorism. That's here for a while. Number three is asteroids. And number four is extraterrestrials." –Shirley MacLaine. Excerpt from an interview with Larry King on Larry King Live that aired on CNN onNovember 9, 2007.
Shirley MacLaine…discusses ET's.
Reverse engineering
There's a third scenario in the human vs. alien debate regarding anti-gravity technologies.
This scenario would see a combination of the two extremes – meaning it isn't fully human technology and isn't fully alien, but a hybrid. The theory suggests alien technology somehow arrived on earth in the mid-20th Century in an event like the Roswell crash. A flying saucer was found and then reverse-engineered by reproducing the alien manufacturer's product after careful study.
The aforementioned claims of Area 51 employee Bob Lazar would fit this theory. Besides Lazar, many other ex-military personnel have claimed the US did indeed successfully reverse-engineer recovered ET spacecraft and eventually learn how to manufacture such anti-gravity craft en masse.
"I have contact with certain diplomats who not only confirm meetings have been taking place between some government officials and an alien race, but have been receiving assistance from this race to advance technology to enable us to meet hostile aliens on a level playing field. My contacts have been present at these meetings and have met these aliens who are benevolent towards us but will not act with aggression towards any life form unless in self defence, but they are prepared to help us advance our technology." –Tony Dodd. Former British police officer.
Popular culture's influence on Area 51 myths
The rumors swirling around Area 51 have given it a life of its own and have resulted in numerous films, TV programs, comics and video games.
Previously, these were readily identifiable as fiction because, for starters, they portrayed a place that didn't exist – not officially at least. We refer, of course, to Area 51.
Roswell, starring Martin Sheen, based on reported events.
However, now that we know Area 51 does exist – and has existed all along – perhaps the likes of the 1994 TV movie Roswell, starring Martin Sheen, the Roland Emmerich-helmed Independence Day, starring Will Smith, and the Steven Spielberg-produced TV mini-series Taken, starring Dakota Fanning, will be viewed in a different light…
Independence Day and star Will Smith…more Hollywood fare.
But are such dramatizations any closer to the truth than the stories the world governments' spin merchants have fed to us about UFO sightings these past decades? If there is a Splinter Civilization currently operating under the surface – both figuratively and literally – then perhaps it's not in the global elite's interests to shatter the ET myths perpetuated by conspiracy theorists and Hollywood film studios. Perhaps it serves the Splinter Civilization's agenda just fine.
"The reality is that they (aliens) have been visiting earth for decades and probably millennia and have contributed considerably to our knowledge." –Paul Hellyer (Canada's former Minister of National Defence) from an interview with the Canadian Press in 2010.
So what is the truth regarding the anti-gravity spacecraft that Area 51 appears to be concealing? Are such technologies manmade or alien, or a combination of the two?
In short, we have no idea! The next person's opinion is as good as ours.
If you really want our guess, and it most certainly would be a guess, we think there are enough eyewitness accounts and testimonials from former military and intelligence personnel to suggest aliens not only exist, but have already visited Planet Earth. And it's our guess the highest levels of the world's governments are aware of this.
Perhaps it would be wise to defer to former Canadian Defence Minister Paul Hellyer, the man nicknamed The highest-ranked alien believer on Earth, Paul Hellyer: Aliens would share technology if earth stopped warswho has said on the record that extraterrestrials are already living among us, but refuse to share their most advanced technology because of humanity's refusal to stop wars.
Former Canadian Defence Minister Paul Hellyer…"I've seen aliens."
The now retired politician and engineer claims to have directly witnessed UFO technology and confirmed the existence of alien beings on earth through his high-level political and military contacts in Canada and the United States.
On January 1, 2014, Hellyer told news outlet Russia Today he believes there are about 80 different species of ETs, some of whom "look just like us and they could walk down the street and you wouldn't know if you walked past one … I would say that nearly all are benign and benevolent and they do want to help us, there may be one or two species which do not."
Hellyer also told Russia Today that aliens are not that impressed by humans. "They don't think we are good stewards of our planet, we're clear cutting our forests, we're polluting our rivers and our lakes, and we're dumping sewage in the oceans, and we're doing all sorts of things which are not what good stewards of their homes should be doing."
Canada's former Defence Minister has repeatedly begged governments around the world to disclose ET technology for the benefit of Mankind, in particular technology that could resolve the problem of climate change.
For example, on February 28, 2007, he told the Ottawa Citizen: "I would like to see what (alien) technology there might be that could eliminate the burning of fossil fuels within a generation…that could be a way to save our planet…We need to persuade governments to come clean on what they know. Some of us suspect they know quite a lot, and it might be enough to save our planet if applied quickly enough."
If Hellyer is correct in what he says, this further confirms the existence of the Splinter Civilization we have theorized on and speculated about throughout this book. His comments also support our contention that nothing's more important for the planet right now than releasing all the scientific breakthroughs and technologies that are currently being suppressed or otherwise classified by the Splinter Civilization.
Whether these technologies are of alien origin (a la Roswell) or are of the human variety (a la Tesla), we firmly believe they could not only solve climate change, as Hellyer suggests, but also solve an infinite number of other critical problems that currently plague the planet.
The danger is if the collective thinking of the public at large remains closed to the possibility of such technologies existing, the likelihood of these problems being solved any time soon looks remote.
A major mind-shift is required. That doesn't mean buying into every conspiracy theory out there, but it does mean keeping – or adopting, whichever the case – an open mind so that all possibilities can be considered.
Read more in The Orphan Conspiracies: 29 Conspiracy Theories from The Orphan Trilogy – available now via Amazon at: http://www.amazon.com/The-Orphan-Conspiracies-Conspiracy-Theories-ebook/dp/B00J4MPFT6/
A book that's for the common people.
Not all is what it seems! –James & Lance
******************************************************